Updated by Boaz Dremer
LinearB Trial Setup
This document will walk you through the process of getting your LinearB trial started. Setup should take about 5 minutes.
What You'll Need
To set up your LinearB account here is what you'll need:
One of the following identity accounts:

Google -
(You can set up a google account with your work email at https://accounts.google.com/. Just click "Use my current email address instead" on the create your google account.)
Github
Slack
Bitbucket
Gitlab

Your login to your git provider. You'll need either admin access to connect LinearB, or, create a personal access token (If you are using Github or Gitlab) We support:

GitHub (Cloud)
GitLab (Cloud or Server)
Bitbucket (Cloud or Server)

*Optional: Your login to Jira. You'll need admin access to connect LinearB. You can set up LinearB without a Jira connection and complete that step at a later time.
Don't have the right access? Send this document to the right person in your organization. After the initial setup, they can invite you to the org. Your LinearB trial comes with unlimited users.  
Getting Started
Click the link in your trial confirmation email, or just click here to get started: https://app.linearb.io?t=338D1 
Select the provider you would like to sign-up with.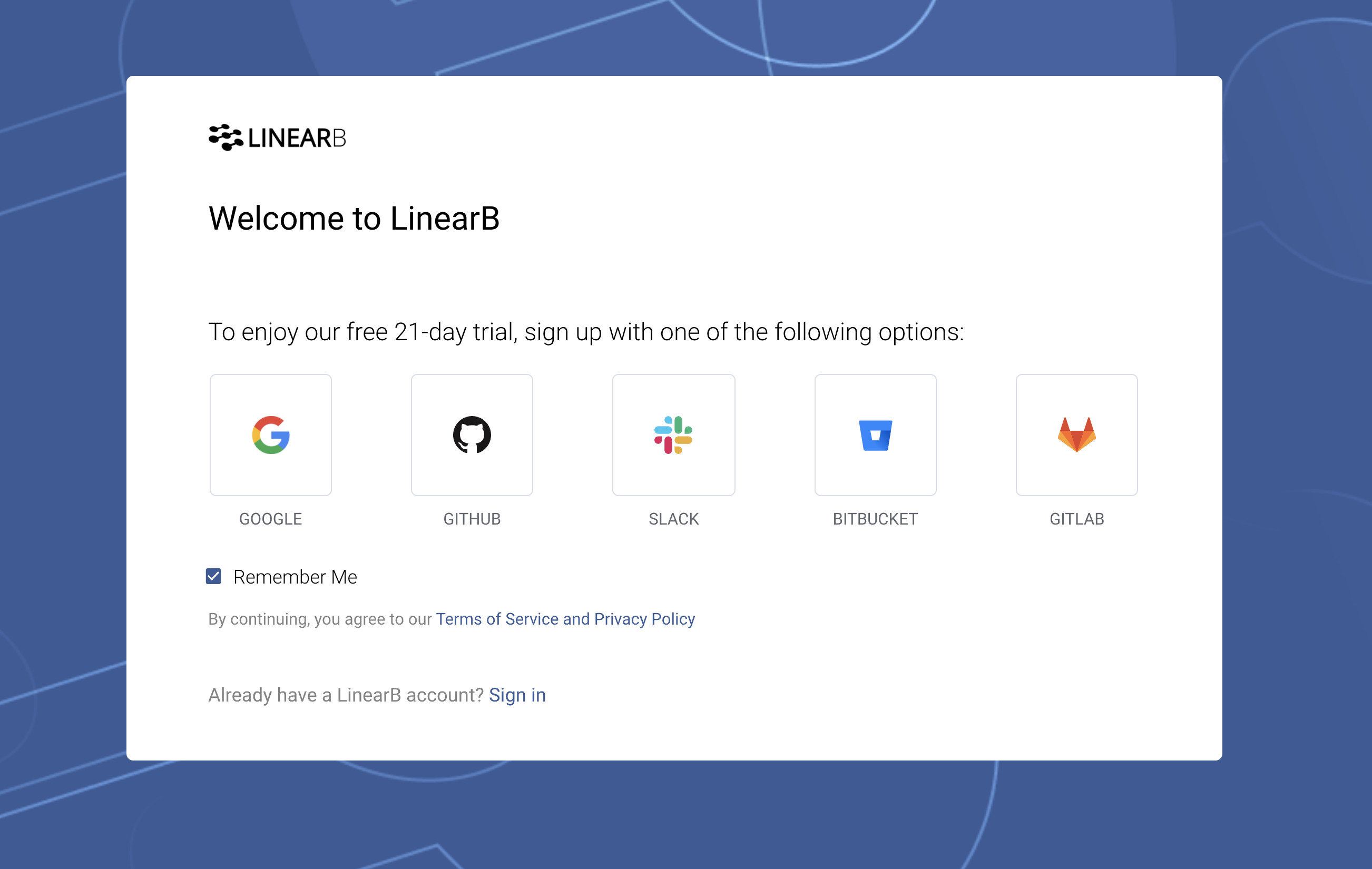 Add a Name for your LinearB Organization.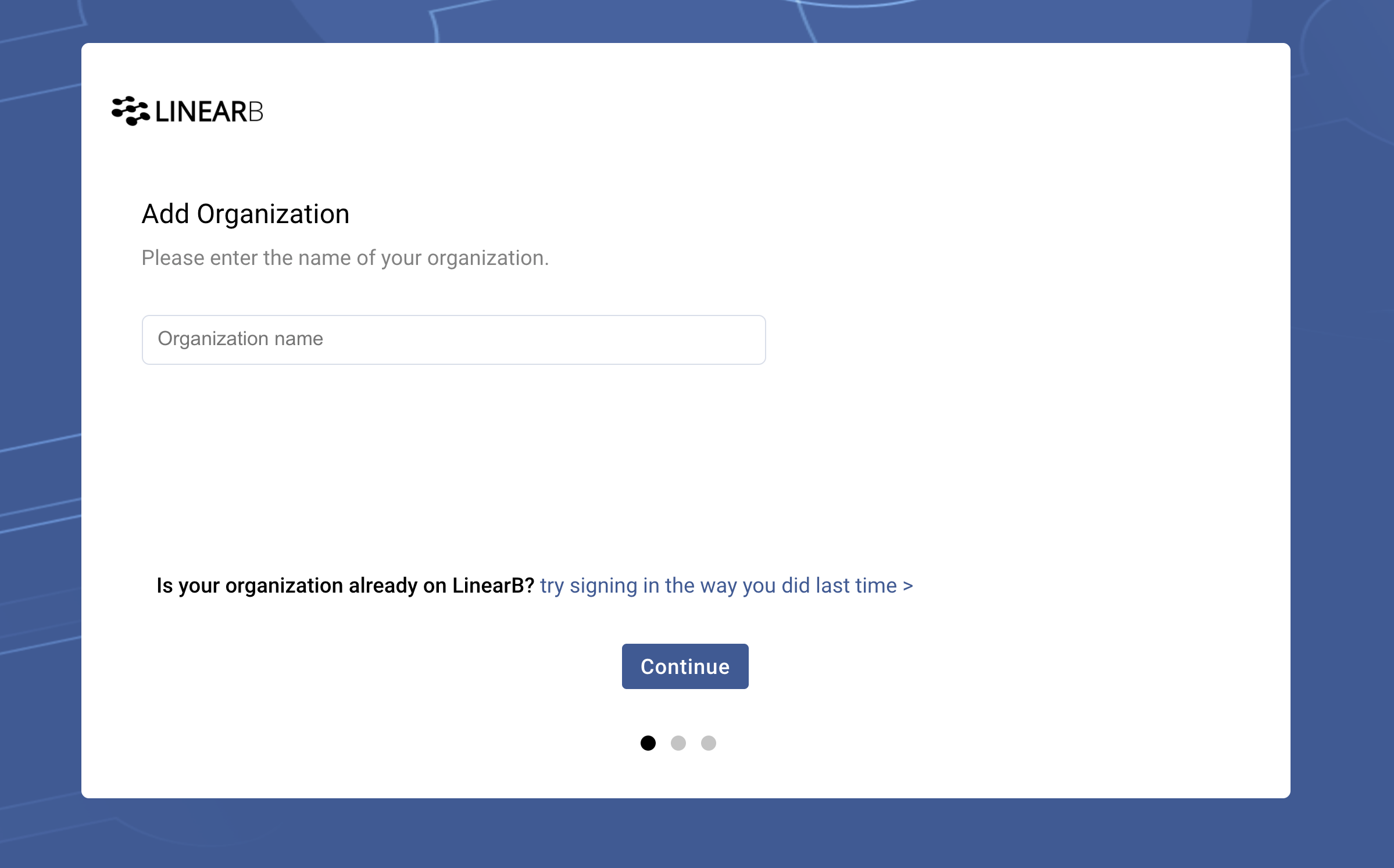 Typically, this is the name of your company. 
Click Continue

Connect Your source control (Git Provider) - You can select either cloud or server (on-prem), available providers.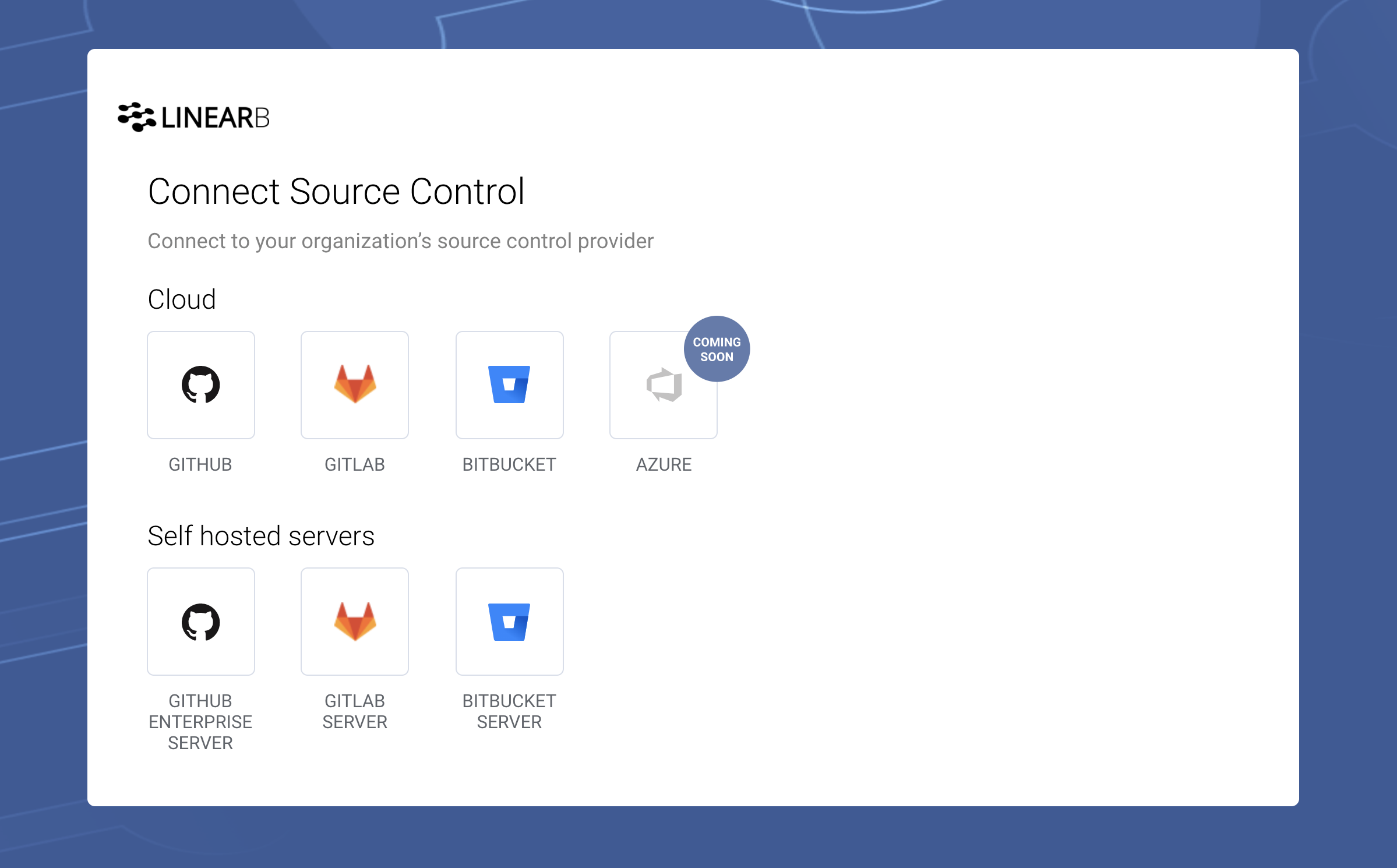 (If you selected Github/Gitlab)
Select one of the authorization methods available:
OAuth application - This option requires you to have GIT admin rights in order to authorize LinearB
Personal access token - This option will require you to create a personal access token in your GIT provider (currently available for Github and Gitlab)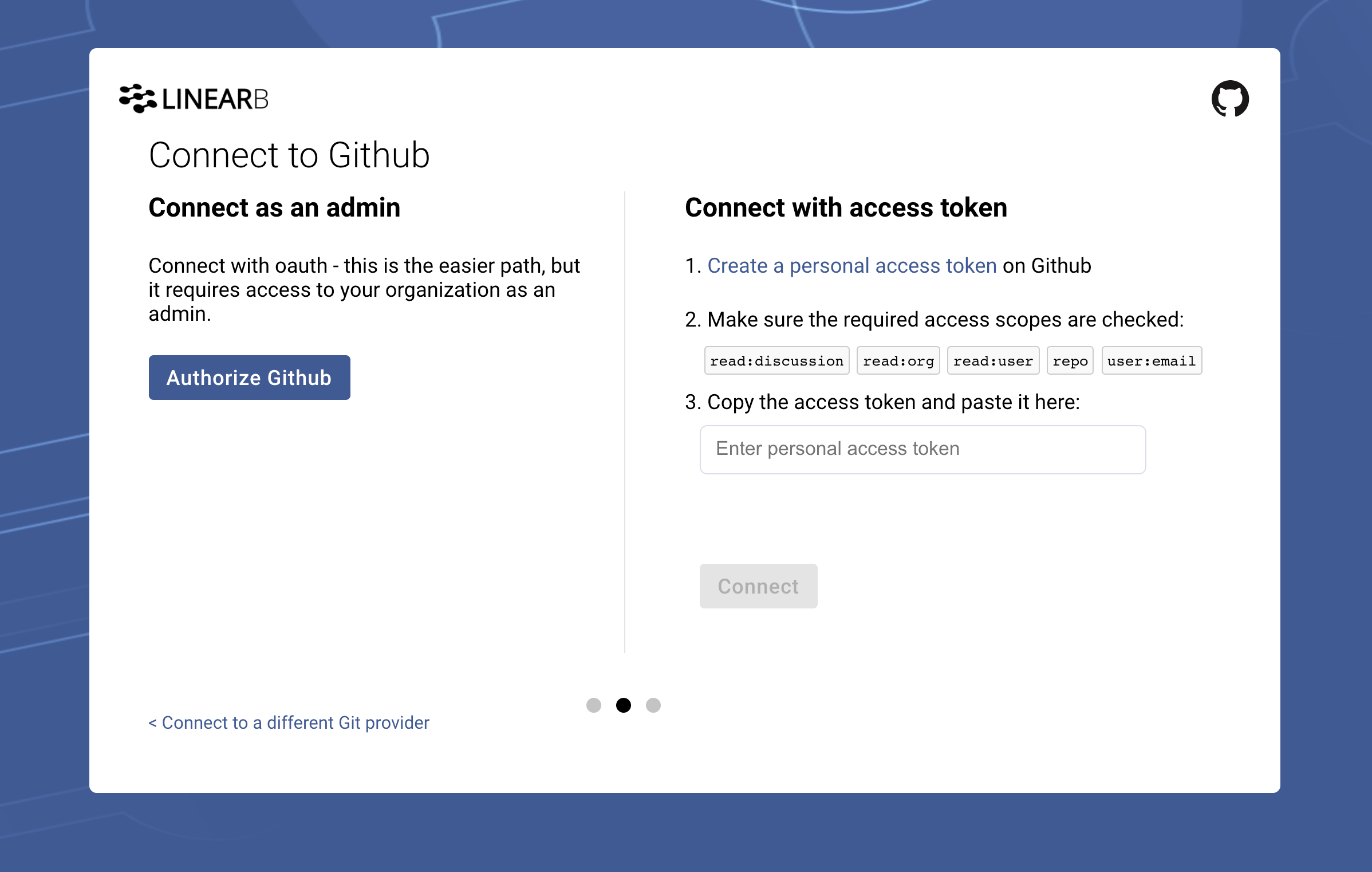 If you selected to continue with the OAuth app: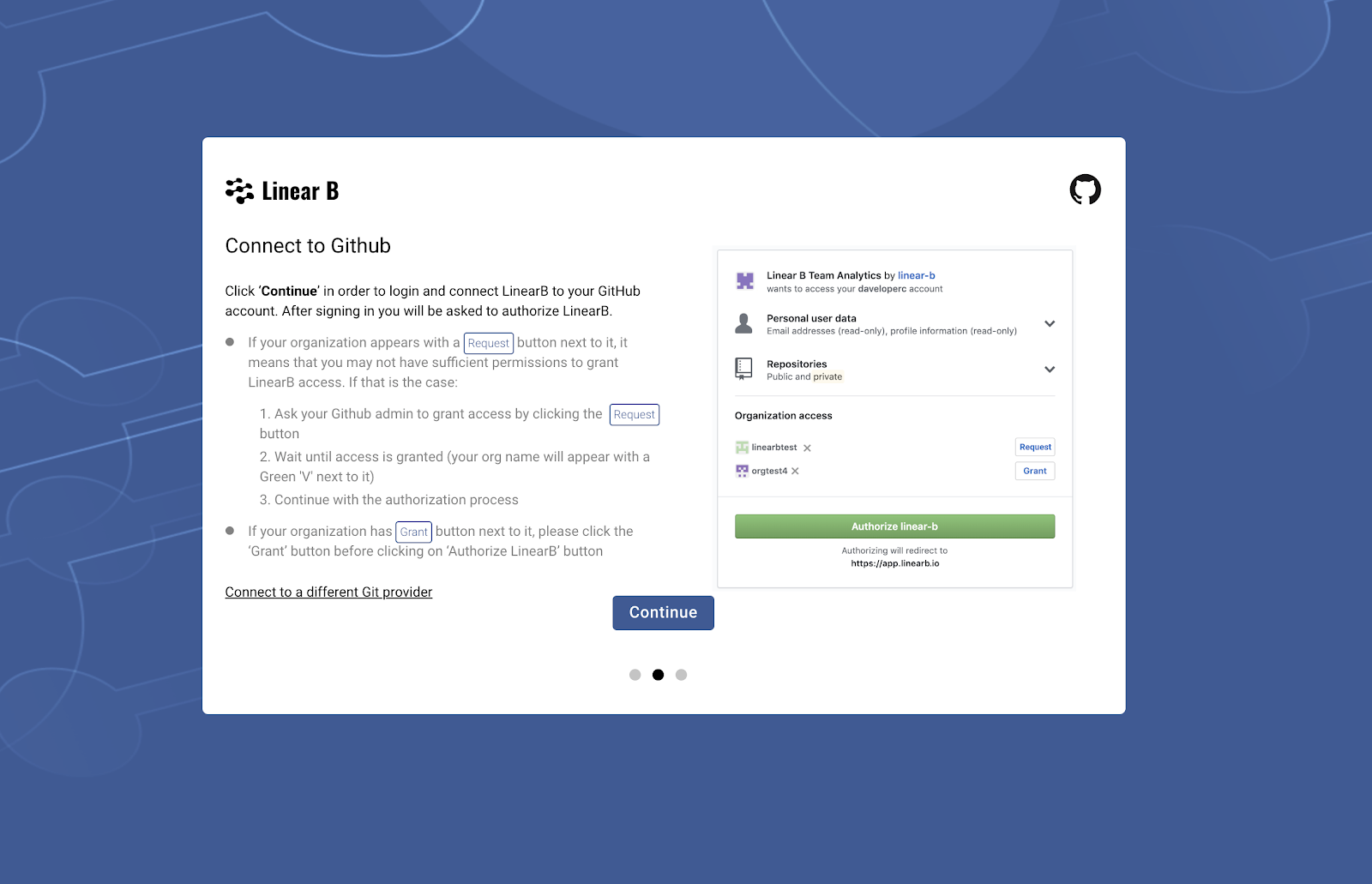 Review the access needed from your Git Provider.
Click Continue. 
If necessary, log-in with your git provider. 
Click "Authorize LinearB"
Select Your Repositories
Choose up to 5 repositories for LinearB to analyze. 
*The trial is limited to 5 repositories, but as a paying customer, you will have 100+ repositories.
Click Continue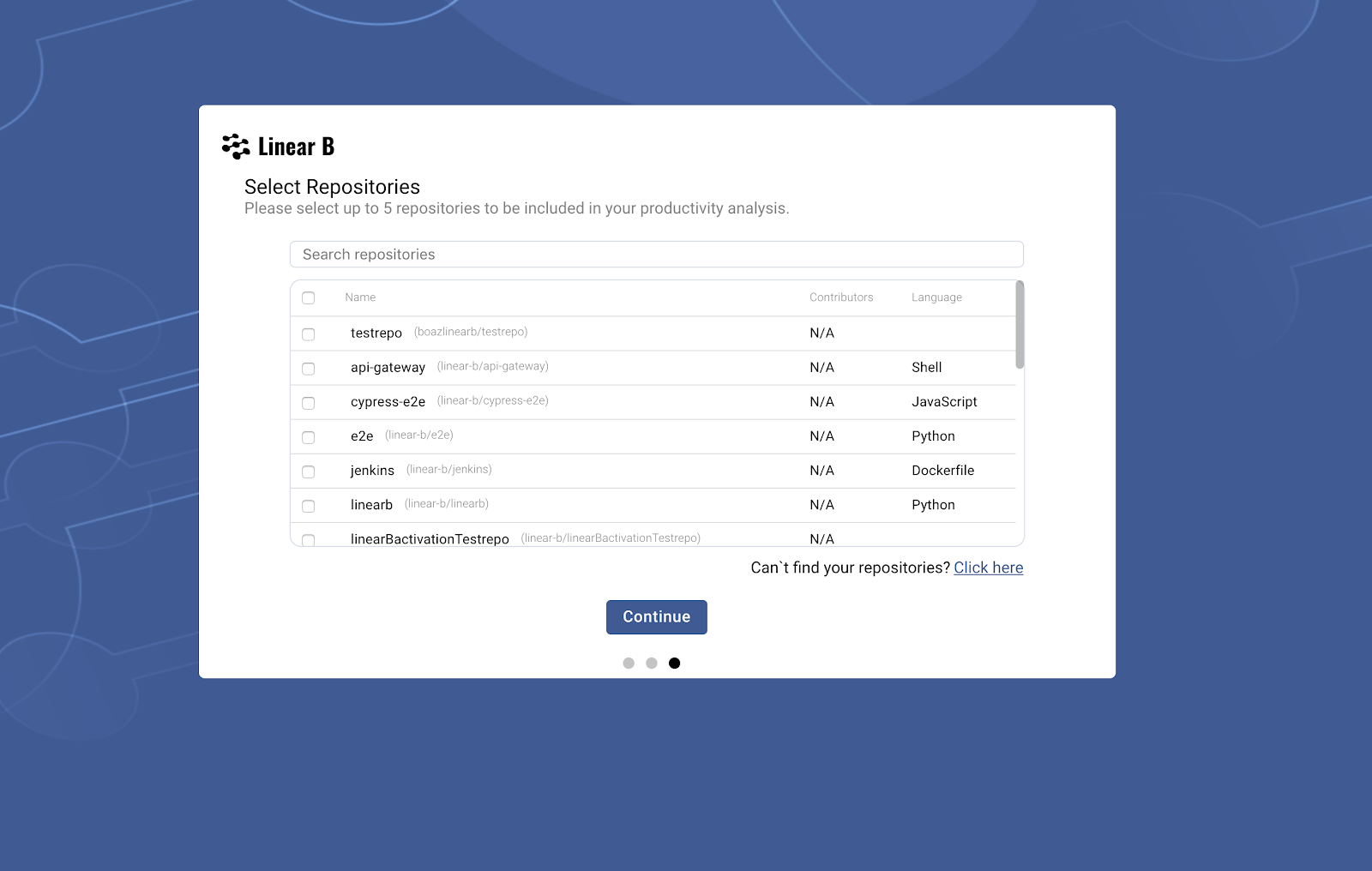 Analysis In Progress
LinearB will now scan your selected repositories. While this is happening, you will see the message below at the top of your LinearB dashboard. 

Optional: Connect Jira
LinearB unifies analytics from engineering and project management sources. To realize the full value of LinearB, connect your Jira instance. This can be done while LinearB is analyzing your git repositories. 
In the top right of the LinearB dashboard, click the settings gear
Click "Jira" then paste the base URL from your Jira Account
Click Continue
Follow the instructions in LinearB to complete 
the connection.
Click "Continue"
LinearB will now analyze your Jira instance in addition to your code repositories. 
Congrats! Your LinearB setup is now complete. LinearB updates metrics in near real-time so be sure to check back frequently to track your progress. Questions? Comments? Let's Connect. Reach out to customers@linearb.io and we'll set up a time to talk.